In the early 1990s, a significant number of Albanian-speaking people from Albania, Kosovo and Macedonia fled their homes, to escape persecution. Many sought asylum in the UK and since then have built a community here.
The migration of Albanian-speaking people, to the UK, began with the fall of the communist regime in Albania in 1991 and also the state of political conflicts in the Balkans, particularly in Yugoslavia where ethnic Albanians from Kosovo were fighting to stop the oppression and ethnic cleansing by the Serbian-led sate of Yugoslavia. The war in Kosovo, in 1997, saw many human rights violations against the majority ethnic Albanian population across Kosovo. 
Although many Albanian-speaking people were granted asylum in the UK, they experienced new difficulties which are associated with forced migration, such as integration and settling in to a new life in a foreign country. Prior to the 1990s, there was no significant Albanian community present in the UK and as such there was a lack of organisation and community identity. The challenges the community faced created real barriers. Whether it was because of the; language barrier; cultural misunderstanding; lack of qualification and no access to employment; or the lack of knowledge about the UK's systems, the community faced immense problems which caused integration to be difficult.
Forming on 28 November 2002, Shpresa Programme (the Hope Programme in English) has become the first door for help for many Albanian speaking people across London, the missing extended family for everyone who joins, and the bridge to link with the hosting community. Through its services Shpresa encourages people to be proud of their culture, heritage and tradition, and creates opportunities for this heritage to be shared with the hosting community and younger generations. This heritage comes in the form of identity, language, history, instruments, lullabies, dancing and cuisine. Here we have collected records of different heritage elements that people bought with them to help make a home in Newham and add to the community here.
---
Heritage record 1: Language
Gjuha jonë sa e mirë! 

Sa e ëmbël, sa e gjerë! 

Sa e lehtë, sa e lirë! 

Sa e bukur, sa e vlerë!

Our language, how good!

How sweet, how vast!

How easy, how free!

How beautiful, how valuable!
The poem was written by Naim Frashëri in the late 19th century, during the Albanian Renaissance under Ottoman rule. As a member of the Turkish government, Frashëri was forced to publish many of his works using only his initials to protect his position and his family. Nevertheless, he went on to create some of Albania's most treasured poetry, ballads, short stories, and translations, and is considered by many to be the national poet of Albania.
---
Heritage record 2: Instruments
Many people bought instruments with them when travelling to the UK so they could continue to play and pass on traditional Albanian music.
Below are the sounds of the ciftelia and the fyelli.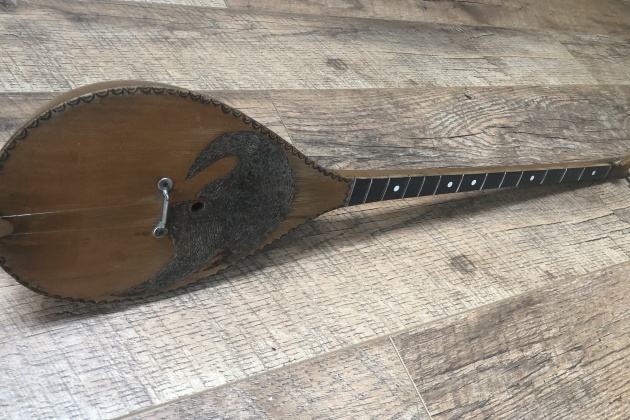 ---
Heritage record 3: Lullabies
Cradle songs ( kenget e djepit ), also called lullabies (ninna-nanna), have been used through the years as an artistic communication between mother and child, to put the baby to sleep.
These songs occupy an important place in Albanian folklore, and have come to express the feelings, thoughts, values and the bond that is created between the mother and her child.
During lockdown during the coronavirus pandemic, we asked some of the younger members of the Shpresa community to sing their favourite lullabies.
Nani nanino
Nani kush te tund
bukuroshe e nanes
nanes ne katund

Nani nanino
Cupe e nanes o
te me rritesh si
drite e henes e
punetore por si bleta
goje embel o
krahe lehta

Nani nanino
Nani shpirt o fli
te me rritesh ti
zemer per malesi
---
Heritage record 4: Music and Dancing
The Music of Albania has a long tradition in the country and is known for its regional diversity, from the Ghegs in the North to the Tosks in the South, the two major ethnic subgroups. It is an integral part of the national identity, strongly influenced by the country's long and turbulent history which forced Albanians their culture from their overlords by living in rural and remote mountains.
Each region has a unique musical tradition that reflects its history, laguagae  and culture. Polyphonic singing and song forms are primarily found in South Albania, while in the North they are predominantly monophonic. Albanian Iso -polyphony has been declared an UNESCO Intangible Cultural Heritage of Humanity
The Gjirokastër National Folklore Festival, held every five years in Gjirokastër, is an important venue exhibiting traditional Albanian music.
Mirdita Dedgjonaj  and her family migrated in Uk  over 15 years ago.  She is one of our music teacher for many years  – this songs encourages people to learn the Albanian language, mother tongue
Albanian dancing
Albanian culture and tradition cannot be fully understood without first having witnessed the country's traditional folk dances. In addition to the music, the particular choreography and costumes are fascinating elements of these dances, revealing as much about the specific region they represent as any history book! Each region has its own traditional costume and particular folk dance, a great variety of which can be seen in any Albanian wedding or similar celebration. The north includes some of the most beautiful and most technically challenging dances, which are mostly characterised by displays of bravery and strength. 
Here young members of the Shpresa community perform a traditional Albanian folk dance called Vallja e Bareshes on Independence Day in 2011.
---
Heritage record 5: Cuisine
For Albanians, food is an important component of their culture and is deeply rooted in the history, traditions and values of the country. Hospitality is a fundamental custom of Albanian society and serving food is integral to the hosting of guests and visitors. Below is a typical dish for you to recreate the taste of Albania at home.
Tave Kosi: Albanian lamb & yoghurt casserole
Prep time: 35 mins
Cook time: 1 hr
Total time: 1 hr 35 mins
2 lbs lamb leg with bone, roasted lamb shoulder or leg steaks
2 tbsp flour
1 tbsp salt – divided between the meat and the yogurt sauce
½ tsp black pepper
5 cups yoghurt
4 eggs
4 tbsp butter – cubed
1 Preheat oven to 400 degrees F.
2 Cut the lamb into small pieces and place them in a 4 quart pot. Add water until the meat is covered. Boil the lamb on a medium heat until the broth reduces to 1 cup.
3 Right before the broth reaches reducing point, season it with 1/2 tablespoon of salt and one teaspoon of black pepper.
4 Remove the pot from the heat and let it cool for 10 minutes.
5 After the lamb is cooled, place it in a baking pan.
6 In a separate bowl whisk together the broth and the flour until the mixture is smooth.
7 Meanwhile, in a large bowl whisk together the eggs, 1/2 tablespoon salt and yoghurt. Continue to whisk them together to a yoghurt sauce consistency.
8 Mix together the yoghurt sauce and the lamb broth mixture. Pour the sauce on the top of the meat and add the butter cubes. Season it with black pepper and bake it in a preheated oven for about one hour. Baking time depends also on the oven type and baking pan that is used.
---
You can explore each of these heritage records in further detail below:
Further Albanian language record.
Further Albanian instruments record.
Further recordings in the Albanian lullaby record.
Further Albanian cuisine record.
About this record
Shpresa supports and advocates for the large Albanian community in Newham. For Newham Heritage Month, Shpresa explores the heritage items many Albanians bought with them to the UK to both celebrate and nurture their identity for younger generations. Here, heritage comes in the form of identity, language, history, instruments, lullabies, dancing and cuisine. What would you bring with you to make a home?
Additional record details